We secured an Exhibitors Booth as a "Start-up Company" along "Innovation Row" at the Las Vegas Convention Center, December 7th and 8th. We demonstrated the latest BarbSaver tool and had a "Save a Barb Challenge!" where we challenged visitors to try the BarbSaver tool on everything from barbed manifolds, to many different fittings, to a wide variety of drip end-points. With OVER 100 demonstrations over the two days only THREE failures occurred, all due to the same blade/device that ended up having a broken tip
We treated visitors to about 300 LifeSaverR mints over the two day show too!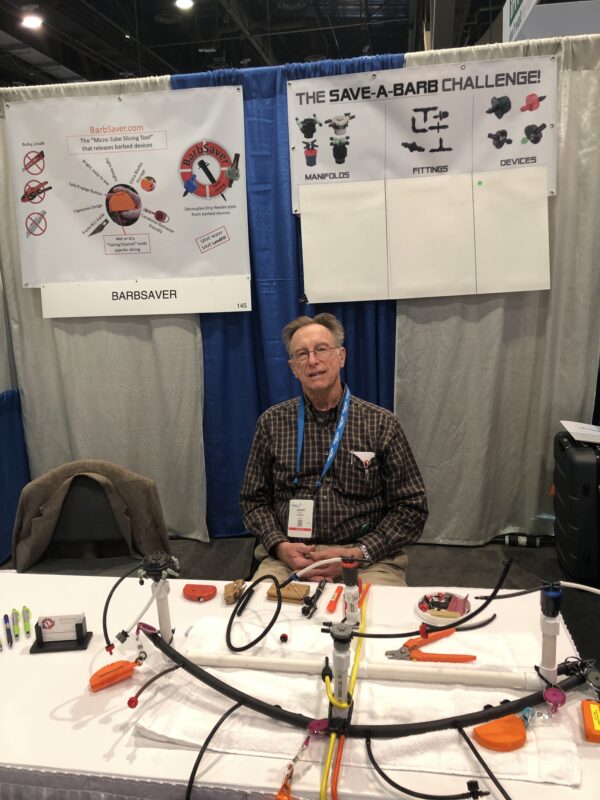 We had 5 raffle winners for BarbSaver tools and are notifying them to confirm their desire to accept the tool at no cost and to confirm their mailing address! Once they've had an opportunity to receive and use the tool, we'd be excited to get their feedback and even a testimonial, if that works out! While we are getting close to going into limited production the timing still looks like 4~6 months out, putting this into early summer 2023.
While on our flight home from the irrigation show in Las Vegas we had some time to reflect on the many wonderful comments and feedback we received about the BarbSaver tool introduction and raffle!
We appreciate so much those who came by our Booth #145 representing the micro-drip irrigation profession, not only here in the USA, but also from other countries as well. Here are but a few of the TOP 5 comments we received over the two day exposition that we'd like to share with everyone who participated in the "Save a Barb Challenge" and raffle!!
"This tool should have been introduced 20 years ago as it would have saved me and my maintenance crews MANY cut thumbs resulting from using utility knives & box-cutters to slice 1/4" feeder tubing from barbed devices."
Using the NEW BarbSaver tool, NewBee Landscaping Apprentices and casual gardeners alike can quickly correct installation tubing mistakes and make changes without damaging barbed devices
Feedback from Commercial "Orchard crops and vineyard sector" field operations managers commented that using the BarbSaver tool with its retractable blade channel would make a huge impact to supporting worker safety programs. Repairs to installed systems can be done easily, quickly and safely, even in bad weather or poor lighting conditions.
Barbed drip devices and manifolds are improving & getting more expensive. The BarbSaver tool is almost as fast to use as cutting off ends and throwing them away into LANDFILL. It's time to save resources AND money!
During installation and for several weeks to follow, changes, resizing and minor repairs can't be avoided! With the help of the BarbSaver tool, reconfiguring, expanding and trying new drip system ideas without fear of damaging expensive drip manifolds and new end-devices can be done easily, quickly and safely!
A good number of attendees mentioned regarding the DIY Drip system consumers, that they would not be surprised to see the BarbSaver introduced and marketed, both as a stand-alone tool product, and as an included tool in ALL of the major manufacturer consumer Micro-Drip Expansion and Repair Kits.